cats can't count
My wife drives me nuts. This is why I love her.
While everyone else in the city (myself included) is running around at war with the month of August — fighting and backbiting and teeth-gnashing and letting their fear and anger get the best of them, my girl Elly is keeping a calm head and focusing on the one thing where she knows she can make a difference. Saving little lives.
At the moment our house is a bit of a zoo, filled with wayward animals that she's been busy snatching from the jaws of death and is currently seeking homes for. This is called fostering. But she does the rescue bit, too. Every single day.
Our latest little tribe of houseguests is a mama cat and her six babies, and a seventh one (a little orphan) who the mama cat has amazingly accepted as her own, without question or complaint. If only the people in this city treated each other with such generosity. The little orphan has been given a new chance at life from this tight knit little family, just as Elly gave them all a chance by saving them from euthanasia only hours before it was too late.
Please read Elly's latest blog entry about this unusual family of cats, and their harrowing story of abandonment and salvation. It will warm your heart, remind you how fragile and fleeting life is, and show you how a simple act of selflessness can really and truly put things right.
Elly's well-written account, called "Cats Can't Count," with pictures, is here:
http://waifnola.livejournal.com/2008/08/20/
The cats are named after our favorite New Orleans characters and colorful homeless folks, they are: Ruthie the Duck Lady (the mama cat), Biscuit, Lucky Bead Lady, Head Wound Harry, Mr. Ike and His Harmonica That Cost More than a Car, Geico Caveman, Homeless Bill, and Flash. Here they are: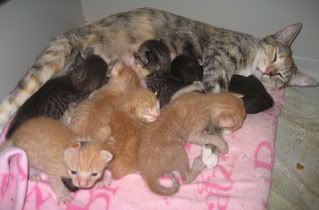 Have I mentioned that my wife drives me nuts? God bless her for it. She also keeps me sane. Little acts of kindness can have that effect.
Elly's little neighborhood rescue organization, which she runs with her friend Gail, is called WAIF (Wandering Animals' Insurance Fund). Please visit their website at http://waifnola.com. Their motto is: "Two Crazy Ladies on a Mission and One Husband Who Barely Tolerates Them."
I'm the husband. :-)
– Louis Maistros