Our Stories So Far…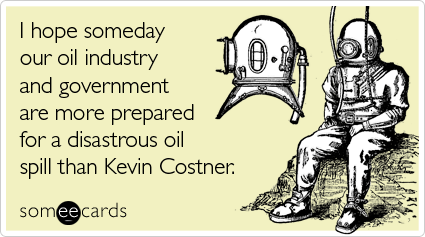 I do hope so, really, I do.
My impressions of my air-conditioned nightmare day trip to Plaquemines Parish are here.  Sure, it's still a right-wing bastion that is clamoring for Obama's birth certificate, but they're right there in the middle of the no-fishing zone and they are hurting once again.
What gives with the enforcement of the no-music-after-eight ordinance on the books?  Check with the Blog of New Orleans once again for the scoops.  I'm starting to think that the only immediate ways for this to work will be to get the Bourbon Street bars to take on more live musicians and for some streets and blocks that don't have as many residences (like that 100 block of Bourbon that TBC performs on) to get an exemption for the ordinance.  But those are just my opinions.  Having lived on NYC's "Boulevard of Death" for two years and been subjected to all kinds of traffic, subway, and train noise at all hours of the day and night there, I personally wouldn't mind a brass band one bit, but one girl's harmony is someone else's harming of their quality of life.  The greater sociological and economic problems that lie behind the deeper reasons why these kids from the poorest, roughest neighborhoods of New Orleans are out on the streets leading second lines and playing for cash from passing tourists and locals alike?  Addressing those is still a much longer time in coming.
Can we get the judge who overturned the deepwater drilling moratorium to head over to referee the World Cup games?  Should Joe Barton apologize to fans of England and the USA for the limp feeling that followed that tie?  Should Tony Hayward and his successor in the Gulf, Bob Dudley, head down to South Africa and face a noisy death by vuvuzela?  Actually, considering how well the US team is doing right now, the players thus far in the BP oil disaster ought to go up against the US on the turf.  'Cause if goalie Tim Howard can perform, and perform well, despite his Tourette's, he and his teammates can surely kick some corporate shill butt.
The birds and sea life are still getting oiled out there in the Gulf.  A benefit will be held for Tri-State Bird Rescue at Flanagan's tomorrow night, from 6 pm-9:30 pm, according to commenter Andrea.  Please continue to give to these organizations helping clean the wildlife, even if you do make it to the pub.
And, finally, all of the above will most likely be discussed at one time or another at the Howlin' Wolf on August 28th, because registration for this year's Rising Tide Conference is up and at 'em.  Register early…and often! Or else our blogmaestro Loki will give you the evil eye…click on that last link at your peril. Heh heh heh…